My newest CD was released in 2008. The CD itself is reminiscent of the atmosphere of jazz cafes and New Orleans jazz clubs from the 50-60s. The percussion accompaniment makes the sound of the harp even more special. Besides popular movie soundtracks, Thomas Fats Waller: Ain't Misbehavin, Louis Armstrong: When the Saints go Marchin'in, Duke Ellington: Satin Doll and Sidney Bechet: Petite Fleur can also be found on the CD. I recommend it for anyone of any age. This CD is very special to me due to its unique atmosphere.
Mihály Czékus has written an article recommendation about the CD. Below you can find a short extract:
"There is a reason why people say that the harp is the kind of instrument that can open the doors to the soul. We know this for at least 3000 years now, since that is how old this magnificent instrument is. It is also not a coincidence that not many young pupils choose to learn it. Wise people tend to say that only people whose soul can become one with the instrument can truly play a harp.
Emese Bajtala is a unique musician like that. Her name is not known by many, even though it is enough to listen to one of her CDs once in order to forever remember this name…
Emese Bajtala: Tea for Two
The classic songs on this CD have been adapted in many different ways. Now here is a new concept: popular songs on the harp. What makes this idea even better is that its from Emese Bajtala, a Hungarian artist.
According to certain views, there are instruments that talk to the soul. The harp is one of them. It is the oldest string instrument, there is proof of its existence from 3000 years ago at ancient Egyiptian memorials. An instrument like this can only be played with a pure soul.
Emese Bajtala has managed to achieve that and this CD is the proof that it was done in a significant way.
She started to familiarize herself with the harp at the age of 8, and by 16 she was already playing in orchestras. She is a harpist with many concerts and an extensive repertoire, she plays not only classical music but also other music genres.
The songs on Tea for Two are reminsecent of the atmosphere of cafes from the 50's and 60's.
The sound of the harp is accompanied by precussion instruments. Additionally, what makes this CD unique is that some of these songs are played with these instruments for the first time. The CD is 45 minutes and consists of 17 tracks, for example Time After Time (Jule Syne), Satin Doll (J. Mercer – D. Ellington – B. Strayhorn), When The Saints, Go Matchin' In (Louis Armostrong) and Don't Get Around Much Anymore.
This harp music touches something inside of us, provides an intimate atmosphere. While we listen to it we might think how nice it would be if cafes and tea houses would play melodies like this instead of all the computer generated music we hear nowadays.
Tea for Two deserves to be listened to more than once as it gives us something fresh in this modern music world that lacks creativity.
Emese Bajtala's product is so high quality that it would deserve its recognition in Europe.
Recommendation of Mihály Czékus.
Packaging 9/10
Content 9/10
Performance 10/10
Sound 9/10"
Publisher: Author's edition
Website: harfamuzsika.hu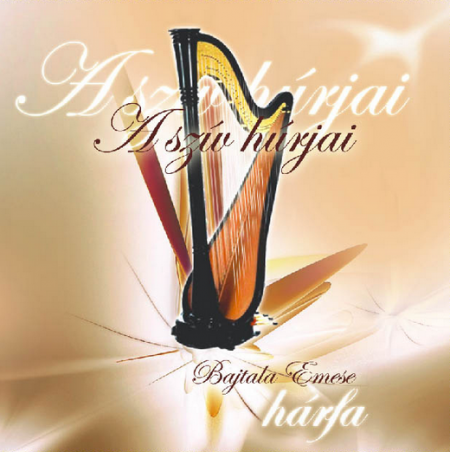 The Strings of The Heart (A Szív Húrjai)
My first independent CD carries a romantic, lyrical atmosphere. The name is The Strings of The Heart (A Szív Húrjai). While deciding on music pieces to include, I was mainly thinking about couples about to get married.
This CD is aimed for them as it contains wedding songs and makes it easier for couples to choose the appropriate music for both a civil and a church ceremony.  It is also suitable as background music during wedding receptions. It can serve as an excellent gift for wedding anniversaries, since it preserves and brings back the best moments of the wedding. These music pieces are classics and can be enjoyed by anyone.
I recommend it to anyone who likes romantic harp music.
Mihály Czékus's article recommendation (in Hungarian).
Intimate Moments (not available anymore)
My first CD was released in November 2004. It is a collaboration with János Kegye, who plays the pan pipe.
The CD is a collection of beautiful songs written for harp and pan pipe; suitable for every intimate moment of life.
I recommend it to everyone who yearns for a little bit of relaxation, calmness and beauty in today's rushing world. In contribution with the Pannon string quartet.